August 22, 2022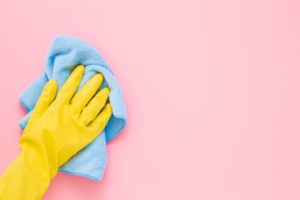 You wouldn't necessarily call yourself a clean freak, but you like when your home is spotless. While vacuuming, mopping, and taking care of other surfaces in your home are important, one area often gets forgotten—the walls! Here are some useful tips for cleaning the walls correctly.
Clean Walls Somewhat Frequently
Although you may not need to do an in-depth cleaning job on the walls all that often, you should be doing regular maintenance, especially in high traffic areas. Every now and then, wipe down the walls to keep dust and grime from building up too much, and you can usually address scuffs with a Magic Eraser, but about every three to four months, you should be treating your walls with a dedicated solution for a more thorough clean.
Start with Dusting
Before you bust out the buckets and water, you should take away dust particles. With reachable sections of the wall, you can use a microfiber cloth, but for high parts, you can use a broom. If you have a lot of dust or cobwebs, you may want to bring out your vacuum to make sure you get as much as possible prior to scrubbing.
Be Smart and Safe
If you are going to be cleaning wall sockets or light switches, be sure you turn off the power to the room in the circuit breaker. It's not safe to wash with water while the power is still on—you could get a nasty shock! As soon as you're done, remember to turn the power back on.
Take the Finish of the Paint into Account
Not all walls can be washed using the same solution. High gloss paints, which are usually found in bathrooms and kitchens, are much more durable and more prone to messes. Therefore, they can be cleaned with more aggressive cleaners.
On the other hand, eggshell, satin, and flat finishes can come off easily. As a result, you need to use milder cleaning solutions and gentler scrubbing motions. Otherwise, you could end up having paint rub off the walls.
Know the Type of Paint You Have
It's important to know what materials are in your paint because that determines what kind of cleanser you can use. Oil-based paints can be washed with warm water and dish soap, whereas you can use all-purpose cleaner (like white distilled vinegar, dish soap, or gentle cleansers with water) for latex-based paints. If you aren't sure which type you have, you can test out the solution on a small, hidden area prior to cleaning the rest.
You don't have to obsessed with cleaning to have a perfectly pristine house. Now and then, pay a little bit of attention to your walls to keep them looking their best and dust free. By following these simple tips, you can truly have a comfortable, clean home!
About Platinum Painting of Arlington
For more than a decade, Platinum Painting has beautified homes throughout the Dallas – Fort Worth area. In fact, we've painted more than 12,000 homes! Our team members live in the communities we serve, which means you'll receive the best service possible from your friends and neighbors. To schedule an in-person estimate for interior painting, you can contact Platinum Painting of Arlington online here.
Comments Off

on Cleaning the Walls? Keep These 5 Tips in Mind
No Comments
No comments yet.
RSS feed for comments on this post.
Sorry, the comment form is closed at this time.