Painting Company – Arlington, TX
What Sets Platinum Painting of Arlington Apart From The Rest
There are many qualities that set Platinum Painting of Arlington apart from the competition as a true leader in the DFW Metroplex for interior and exterior professional painting. Keep reading below to learn more about what makes us unique in the best way, and don't hesitate to contact us directly if you'd like to ask a question or request a 100% FREE quote!
Why Choose Us:
Based in Arlington
Insured
Satisfaction Guarantee
Serving All of North Texas
Recognized Local Leader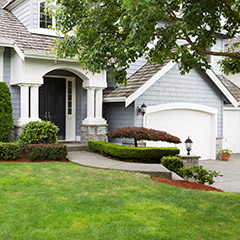 We're not some "big-box" company that specializes in cutting corners. Platinum Painting is owned by Karl and Marjorie Pickens, who live right here in DFW. Every member of the team takes an enormous amount of pride in providing genuine customer service that goes the extra mile. In fact, we've won several awards for our high-quality work, and you'll be sure to see why immediately once you give us a call.
Interior & Exterior Painting Experts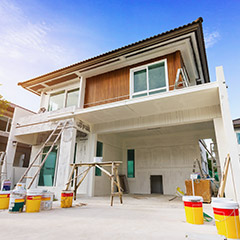 The Platinum Painting team features many professionals who are truly at the top of the field. We take lots of pride in our interior and exterior painting expertise, and you can rest assured that our background screenings will ensure that each customer is paired up with only the best of the best. In addition to painting, we can also provide finishing services for doors and cabinets and arrange even complicated custom projects with ease. Our expert estimators are known as the "IdeaGuys" because they have a true talent for surveying different projects and sharing lots of fun ideas that our clients have rarely thought of themselves! Their visions can help take your desired project from simply good to "WOW!"
We Give Back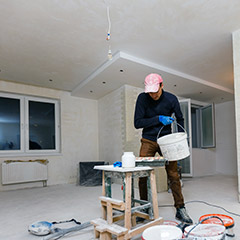 At Platinum Painting of Arlington, we strongly believe in giving back to our local community and the world at large whenever possible. After all, our team members don't just work in Arlington and the Dallas-Fort Worth area – we raise our families here as well! For example, we regularly partner with the organization SunShine Spaces, which helps give children who are struggling with long-term/terminal illnesses much-needed room makeovers. We're also passionate about Wounded Warriors, which goes a long way to help veterans, and supporting local police departments as well.
Safety & Security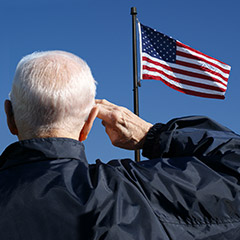 While painting is an industry that has no tried-and-true licensing requirements or union rules, you can trust in Platinum Painting to provide all of the important insurance, and accountability you need to feel confident throughout the project process. We're ready to fulfill your needs!
0% Interest Financing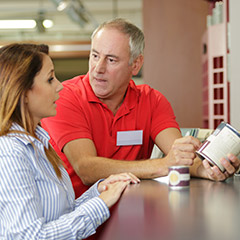 If you're worried about budget, put your mind at ease – the paint job is your dreams is still within reach! Platinum Painting of Arlington works with reputable third-party financing companies to help secure payment plans (with approved credit) that come with little to NO interest attached. We understand that many homeowners need a little extra help to not break the bank, and we'd never want the much-deserved beautification of your home to interfere with your family's finances. Please don't hesitate to contact us today and learn more about your options.
Painting Company FAQs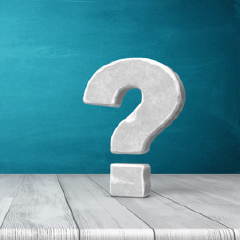 We understand that choosing a painting company is a big decision. There are a lot of factors to think about! After all, you're inviting someone to come into your home and work around your valuable possessions. We are grateful to be considered, and we want to make the decision-making process as easy and seamless for you as possible by answering any questions you may have. Here are some of the common ones that we've been asked by our customers in the past.
How long has your team been with you?
We have some team members who have been with us since the beginning. When we started in 2008, we knew we wanted only the best employees, and we have been selective about our team members ever since. At Platinum Painting, we treat our customer's trust with the utmost care, so we hire individuals who help us keep our customers happy. We make sure they have three crucial qualities to help us exceed each customer's expectations:
Integrity.
A desire to continually improve.
A strong work ethic.
Also, we "hire to retire," meaning that when we bring on a new team member, they stay with us for the long haul. You can feel confident that our team has the training and experience necessary to get the job done right.
Are you insured?
Yes, we are insured. Although Texas has no union rules or licensing requirements, we at Platinum Painting of Arlington believe in accountability and safety for our team members and for our customers. You can have peace of mind that your possessions are safe and covered while we work in your home. All our teams are also insured, protecting everyone involved while we do our jobs.
If you would like to confirm our insurance documentation, feel free to contact us. We are happy for the opportunity to earn your trust.
How long have you been in business?
Platinum Painting began back in 2008 with us, Karl and Marjorie Pickens, a husband-and-wife team. We noticed that existing residential painting companies gave their customers very few choices other than paint color. Wanting to change that, we decided open a painting company that provides customers with more options, including the quality of materials, so that they could have more affordable, customized painting service for their homes. Starting in Keller, Platinum Painting has grown dramatically over the years and now serves customers all over North Texas, but our dedication to satisfying each individual client has stayed exactly the same.
Is there a difference between commercial and residential painters?
Absolutely! Although both commercial and residential painters essentially do the same thing, there are several important differences between them. Commercial painters usually complete larger scale jobs for apartment buildings, stores, or other businesses. Residential painters specialize in houses, meaning that we can focus on even the smallest detail inside or outside your home. At Platinum Painting, we have served over 10,000 homes in North Texas, and there is nothing we haven't seen. Because we are a locally owned and operated company, and not a large commercial painting company, we have highly trained, hand-picked professionals who work efficiently and deliver amazing results every time.