Interior Painting – Arlington, TX
Love Your Living Space Again
Most of us spend a lot of time in our homes, whether we're hard at work in an office or joining our loved ones for family dinner. While it may not be overly noticeable at first glance, these indoor spaces can dramatically affect your overall mood and day-to-day wellbeing. You should feel good about what you see every time you step into a new room, which is why Platinum Painting of Arlington would love to help you make some exciting changes! Whether your interior painting goals include dramatic new colors or just a simple touch-up, our experienced team can't wait to get started. Contact us today to arrange a complimentary, no-strings-attached quote.
Why Choose Us:
Based in Arlington
Insured
Satisfaction Guarantee
Serving All of North Texas
What Do We Paint?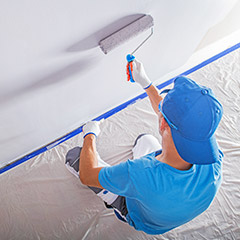 At Platinum Painting, we've handled all sorts of residential interior painting projects, from small condos, single bedrooms, and even homes that span over 10,000 sq.ft. if your requested surface is capable of holding paint, we'll get the job done. Our available services cover the following:
Ceilings (any height)
Walls (any height)
Mantels
Bookshelves
Doors
Windows
Cabinets & Wood Shelves
Chair Rail Moldings
Baseboard & Crown Moldings
French Doors & Windows
Paneling
Wainscotting
And much more!
Interior Painting Steps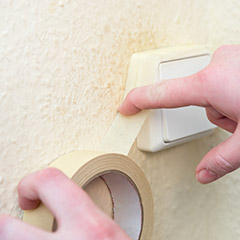 Initial Set Up – Our team will start by carefully removing all of the drapery and furniture from the room we'll be painting, followed by the necessary caulking and sanding services. We will also ask our clients to take care of a few odds and ends, including securing pets in safe, separate spaces and carrying out any beloved items and paintings that we wouldn't want to accidentally harm. For more information on this process, please view our Getting Started page.
Painting – We're ready for the main event now! After any needed priming has been carried out, we'll crack open your requested color or colors of Sherwin-Williams paint and apply it evenly to the walls to create a beautiful, professionally even finish.
Clean Up – Once the painting is completely done, our team members will also personally handle all of the cleaning – you can just relax! This will include sweeping, vacuuming, throwing away trash, and repositioning all of your furniture and various décor as it was before we arrived.
Inspection – As the last step, we'll take the time to walk you through the spaces we painted and gauge your reaction. Be sure to let us know if you see any concerns or need tweaks! We want to drive away knowing that our clients were completely satisfied.
One-On-One Color Consultations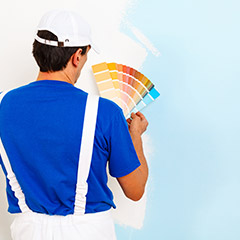 When starting to plan your personal interior paint project, many homeowners can easily become overwhelmed by the sheer number of color choices. What fits your existing décor and furniture best? Which shades would do the best job of creating the overall atmosphere you're hoping for? Should you stick to one solid hue or choose several contrasting colors? At Painting Platinum, we can send a color consultant to help you plan your unique vision with total confidence. Additionally, you can take advantage of the Paint Color Visualizer from Sherwin-Williams, which allows you to experiment with lots of different colors and shades in a commitment-free fashion.
Interior Painting FAQs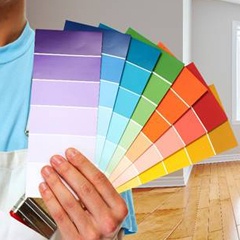 As homeowners ourselves, we understand that it takes a lot of trust to invite someone into your house and perform improvements. At Platinum Painting, we want to reward that trust with excellent customer service and flawless painting results every time, no matter how big or small the job is. Whether you're looking to paint the entire house or just a single room, we can help turn your house into a home. Here are some common questions that we've been asked by past clients to help you decide whether to choose us for your next painting project.
What do you do to protect my belongings?
At Platinum Painting, we want the only indication that we were ever in your home to be the newly painted walls. As a result, we treat your belongings with the utmost care. Before we open the first paint can, we remove all the furniture and drapery from the areas we are painting. To ensure that we don't break or damage anything meaningful to you, we let you handle moving fragile or precious items and keep your pets in a safe, separate space. When we finish, we thoroughly clean the area and reposition your furniture and drapery just as we found them. Before we leave, you will do a final inspection to ensure that you are completely satisfied with our work.
How long does the process take?
From beginning to end, we want to make you happy, and that means saving you time. After you first give us a call to schedule an estimate, we are usually able to arrange that within two to four days. When our estimator has come to your house and provided an estimate, we can schedule for the work to happen as soon as two weeks afterward. We use that time to make any necessary preparations so that the we can use our time in your home as efficiently as possible. The length of the project will greatly depend on how many and the size of the rooms that will be painted. However, our team works like a well-oiled machine to do what needs to be done in a timely manner.
Can you paint really high ceilings?
Yes, we do! Our team of professionals have the tools, training, and experience to handle any painting project, no matter how large. Having painted over 10,000 homes in North Texas, we have seen and done it all. Even with bigger, more complicated projects, we work effectively to make sure that every detail is just as you want. When our estimator creates your estimate, they expertly account for any complexities so that you have a clear idea of what to expect during the project.
Do you help me pick the colors?
We certainly do. We want you to be completely satisfied with your color choice as well as the quality of our work. That's why we offer the services of our experienced color consultant to help you narrow the seemingly limitless color choices down to the perfect ones for you. Also, because we source our paint with Sherwin-Williams, you can also access their Paint Color Visualizer to help you get a better idea of what the final product might look like. That way, you can move forward sure of your decision and confident that the results will be beautiful and exactly what you want.