Wallpaper Removal – Arlington, TX
A Damage-Free Way To Remove Old Wallpaper
While wallpaper is often a fun and creative way to spruce up the appearance of living spaces, these designs tend to become outdated sooner rather than later. For clients who are hoping to replace wallpaper with fresh paint or even a blank slate, Platinum Painting of Arlington can make the removal process a true walk in the park. Call us today to request a free quote!
Why Choose Us:
Based in Arlington
Insured
Satisfaction Guarantee
Serving All of North Texas
What You Should Consider When Removing Wallpaper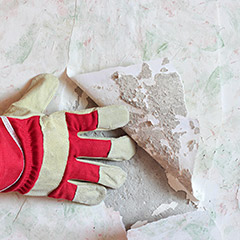 Many homeowners think of wallpaper removal as a fun and simple DIY project they can take on in their free time – but this process can actually be much more complicated and even outright damaging in the wrong hands. In order to avoid damaged walls, let Platinum Painting's seasoned professionals take the lead. We'll always consider the following factors when planning your removal process:
What type of wallpaper is this? Some wallpapers have a vinyl coating, while others are 100% fabric. This information will determine what type of approach we take and the level of difficulty we can expect.
Was the wall properly sealed and primed before the initial application? If no priming was performed, it's very likely that the wallpaper won't be able to remove cleanly without some extensive TLC first.
Exactly how long has the wallpaper been in place?
We'll use all of the proper tools, including steamers and solvents, to ensure that the job is done right the first time – no exceptions.
What are the Benefits of Wallpaper Removal?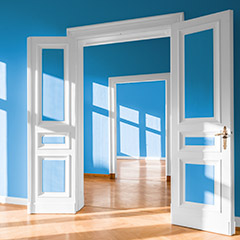 The biggest benefit is pretty self-explanatory – you'll no longer have to stare at a pattern or color you don't actually enjoy any longer! Many homeowners enjoy regularly updating their living space based on their changing preferences, and being able to get rid of wallpaper, at last, allows for new "canvasses" that can easily accommodate your brand-new ideas.
Wallpaper is also notorious for showing its age over the years with unpleasant peels and bubbles. It can also start to curl at the edges and turn yellow! This means that even a well-cleaned home could end up looking not as polished as you would prefer in day-to-day life. If you're noticing these frustrating concerns more and more, be sure to let us know.
Wallpaper Removal Steps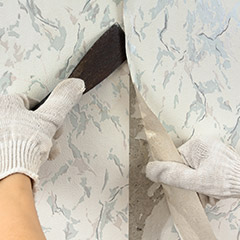 Our team will start by making sure the wallpaper surfaces are sufficiently prepared with professional, non-toxic solvents.
Once we get started on the actual wallpaper removal, this process will be carried out very gently and patiently with top-tier tools. Above all else, we don't want to leave any damage on our client's walls. Any and all remnants will be vacuumed, leaving no trace of the mess.
Finally, we'll clear away the leftover residue from the walls, correct any surface-level imperfections, and smooth out the surfaces with brand-new sanding and skim coats. If you've already asked us to apply fresh paint as well, we'll get started so that your living space is beautifully transformed on the very same day.
Wallpaper Removal FAQs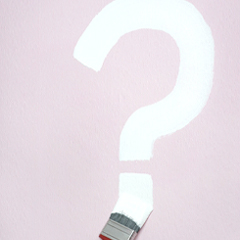 As homeowners, we at Platinum Painting know that entrusting a service company with your home improvement projects is a big deal. You want to know that they will do the job right from beginning to end and give you the results you want for your walls. Even with all this information, you may still have some questions about getting wallpaper removal with us. That's why we've answered some common questions below. If you still have questions that we haven't addressed here, feel free to contact us. Our team is always ready to help in any way we can!
Can you paint over my wallpaper?
Although we technically can paint over wallpaper if you wish, we strongly discourage it. No matter how long your wallpaper has been up, at the moment you introduce moisture to it, it can start to bubble and peel away from the sheet rock. In addition, wallpaper lacks the same texture that bare walls have, so it is obvious when you've painted over wallpaper. Perhaps most importantly, paint on top of wallpaper can be a turn-off for potential homebuyers. If you're looking to change your wall design, it's best to remove the wallpaper and then paint them the desired color(s).
Will my walls be ready to paint once the wallpaper is removed?
Unfortunately, no. Wallpaper requires more than simply tearing it from the wall. Most often, the adhesive used to place wallpaper leaves residue and damage behind. Using our specialized tools, we can patiently remove any trace of the wallpaper and ensure that the damage is kept to a minimum. Then we can repair any damages to the sheet rock and provide the necessary texturing to the wall to make it look like new! Finally, we prime the wall, making it ready for a new coat of paint and a new look. These steps are critical to make sure that your walls look their best and that the paint lasts a long time.
How long does wallpaper removal take?
The duration of a removal project can vary depending on several factors, including the type of wallpaper, whether it was properly sealed and primed before being applied, and how long it has been on the wall. These can determine how difficult it will be to get the wallpaper off and can shorten or extend a project. In general, removing roof wallpaper and repainting takes about two days, but our estimator should be able to give you a more precise timeline for your specific project when they evaluate your walls. Even in extreme cases, we will do our best to remove the wallpaper cleanly and prepare it for a fresh start.
What prep do I need to do before you start?
Before we arrive at your home to address the wallpaper, you don't need to do much preparation. We ask that you simply remove pictures or artwork from the walls so that we can get right to work. From start to finish, we'll take care of your walls, patiently removing the wallpaper and residue and fixing any damage. In addition, you can rest assured that our team will keep the rooms clean and free from debris while we work. We have the tools and skills to remove wallpaper efficiently, leaving you with walls that are ready to make different design statement.