Cabinet Painting – Arlington, TX
Rejuvenate Your Cabinet Space!
When it comes to the kitchen, many homeowners feel overwhelmed at the thought of trying to make big changes. After all, the installation of new cabinets and countertops can be an extremely taxing and time-consuming process – not to mention the obscene price tag attached. At Platinum Painting of Arlington, we'd love to let you know about an alternative. Professional cabinet painting is an affordable and efficient way to give your kitchen a brand-new "shine" without all the extra stress. To explore your options or request a complimentary estimate, contact us in Arlington, TX.
Why Choose Us:
Based in Arlington
Insured
Satisfaction Guarantee
Serving All of North Texas
What Can We Paint?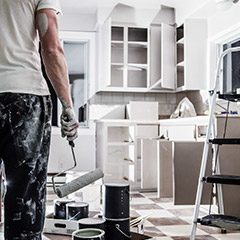 Our painting services aren't just limited to the usual cabinet spaces that hold your silverware, plates, and bowls. We can take on any configuration and location, providing beautifully uniform and high-quality results that will stand the test of time. Our offerings include the following:
Kitchen Cabinets
Center Islands
Garage Cabinets
Bathroom Cabinets
And much more!
The Cabinet Painting Process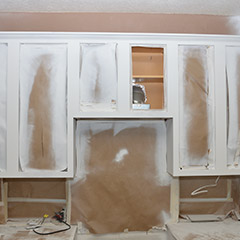 Our team wants to help homeowners discover the perfect intersection between their family's available budget and a top-tier level of quality. We offer a few different painting methods for cabinets, the top one being spray painting. This style creates a smooth and durable surface of paint that will make your cabinets look completely new! We'll also take the time to ensure that this finish is even and free of even the smallest drips and blemishes. Multiple coats of paint are applied, ensuring results that have an excellent amount of staying power.
On the other hand, more price-conscious homeowners may choose "brush and roll" paint instead. This process is carried out in the way that it sounds – our team will use rollers and brushes to apply the paint to your cabinets. This technique may not be as smooth as spraying, but rest assured that you'll still see beautifully rejuvenated and attractive improvements once we're done.
Painting Cabinets or Resurfacing Cabinets?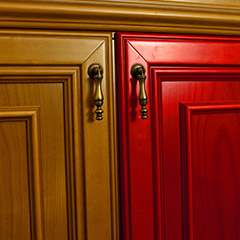 At Platinum Painting of Arlington, we understand that the decision between professional cabinet painting and having the cabinets completely resurfaced may be a difficult one. Both of these options have unique benefits and perks, and the homeowner's personal vision will play a large role in making the right move. Here are just some of the reasons why painting could be the right choice for your kitchen:
Painting is much greener than resurfacing, and there will be far less waste to worry about. No materials will go to the dump!
In most cases, cabinet painting comes with a smaller price tag than resurfacing. If you are already satisfied with the overall appearance and design of the cabinets, this service can be an excellent investment that expands their lifespan.
Cabinet painting will likely take much less of a time investment on the client's part and won't drastically disrupt their living space since all the existing cabinets will remain in place.
Cabinet Painting FAQs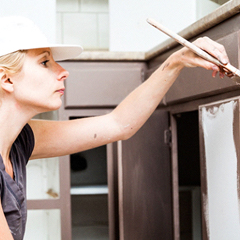 At Platinum Painting, we understand the impact that the right company can have on the spaces in your home. After all, the look of your cabinets can completely change the feeling in the kitchen or bathroom. From the beginning of the project until the final inspection, we can help you feel confident and excited about your "new" cabinets. To assist in your decision to choose us for this service, we've addressed some of the most common questions about cabinet painting below. If you have other questions or if you're ready to schedule your free estimate, just give us a call!
Is there a difference between cabinet repainting and refinishing?
These two options differ in many ways. As the term implies, repainting includes applying another color to the cabinets through coats of paint. Because it is more cost effective, faster, and more environmentally friendly than refinishing, repainting is an attractive option for many of our customers. Refinishing involves re-staining the wood in the cabinets and altering the style. If you're looking for a dramatic change for your cabinets, this may be your best option, but keep in mind that the process is more expensive and time consuming. Not sure which to choose? Our estimators can give you advice, and our team will be in contact with you throughout the process to make sure you're completely satisfied.
Do I need to clear coat over the paint to protect the cabinets?
Generally, we recommend against applying a clear coat over painted cabinets. The chemicals of the clear coat and the paint can create an adverse reaction, resulting in a more yellowy appearance over time. At Platinum Painting, we use methods and materials that can make the results last for years to come. Rather than using a clear coat, we make sure to use proper techniques, primers, and high-quality products. If you need help choosing the best options for your updated cabinets, our team will be happy to offer insight and guidance.
How long does cabinet repainting take?
Typically the process of repainting cabinets takes about two to three days, but that can depend on the size and number of cabinets. If you want to resurface or refinish the cabinets, this process takes longer to completely. The method of repainting—"roll and brush" or spray painting—can also impact the duration of our work. Keep in mind that it's best to avoid using the cabinets for a few days after the project has been completed. Our experienced estimators can give you an accurate idea of how long your specific project will take.
What prep do I need to do before you start?
We want to be able to get straight to work when we arrive, so we ask that you remove everything from the cabinets beforehand. You may leave things inside if we are only painting the exteriors and both sides of the doors, but remember that repainting can be a messy process with sanding and the painting itself. To avoid having to clean all the dishes when we're finished, we recommend that you store the contents of the cabinets elsewhere. Also, try to have the work area clutter free. Please do these small things so that we can focus on making your cabinets look as good as new!