House Painting – Arlington, TX
Transform Your Home In Wonderful Ways
What if you woke up tomorrow and found yourself in a living space that looked fresher, newer, and beautifully suited to your ideal aesthetic preferences? At Platinum Painting of Arlington, we're thrilled to make this dream a reality for our local clients in Arlington and surrounding areas. Our professional house painting services cover a large range of needs and preferences, from single-room interior projects to a wide-range exterior of transformations and everything in-between too. And don't worry – every step of the way, we'll be checking in with you, the homeowner, and making sure that our provided quality and customer service is meeting your needs and exceeding expectations, down to the smallest tweaks and details. Interested in getting started? Request a personal, free quote today!
Why Choose Us:
Based in Arlington
Insured
Satisfaction Guarantee
Serving All of North Texas
Should I Paint My Home?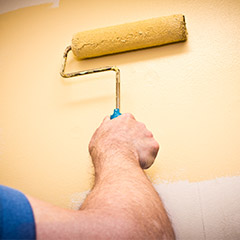 Giving your home's exterior and interior surfaces a fresh new coat of paint can result in benefits that far expand what most homeowners expect. Here are just some of these valuable advantages:
Long-Term Protection – Maintaining high-quality paint on your home's outer surfaces can actually protect it against the elements, including harsh weather (such as snow and torrential rain) and lingering moisture. Meanwhile, painted interior walls will be able to resist gradual wear-and-tear more successfully too.
Minimized Dust & Dirt – Painted inner walls can actually keep your dust levels much lower from day to day, especially if they're made of plaster.
Improved Resale Value & Curb Appeal – Many studies have shown that good exterior and interior painting jobs will actually increase your property's relative value and make it a more attractive option for enthusiastic buyers.
Affordable Remodeling – Many homeowners love the idea of remodeling their living space, but they just don't have a big enough wallet to start knocking down walls and buying overly fancy fixtures. Painting is a great alternative that can create dramatic new looks in a low-stress financial fashion.
The Benefits of Professional Painters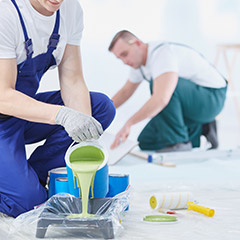 When it comes to house painting, many homeowners are quick to say "well, how hard can it be?" DIY projects can work out fine if you're making very minor changes, but in most cases, relying on the experience and professional approach of a trusted company like Platinum Painting of Arlington is the right way to achieve results that exceed your wildest dreams. Here are the benefits you can look forward to when you choose to hire us for your next project:
Our team members have been trained in the best techniques and practices for professional painting, allowing for dramatic improvements.
Our responsibilities span just beyond basic painting – we'll also take care of unsightly holes, stains, scuffs, and other imperfections that we discover during a job.
We've got all the proper paints, protective gear, and safety equipment that helps us carry out your personal vision in a smooth, stress-free fashion.
There's absolutely no clean-up for you to worry about! We handle everything, leaving clients and families to simply enjoy their gorgeously updated home.
Interior & Exterior Painting Services From One Trustworthy Company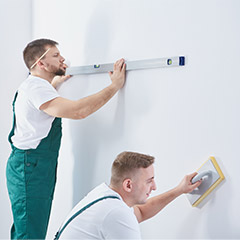 While many professional painting companies are willing to handle commercial and residential projects alike, Platinum Painting is thrilled to have found our niche with homeowners in particular. We work closely with local neighbors here in Arlington, TX and throughout the Dallas-Fort Worth metroplex to transform homes in personalized ways. By offering both interior and exterior services, your family can trust in us for every scope of the project, from a couple of walls in a child's bedroom to an overall makeover of the outer home – no draining DIY attempts or by-the-hour hired hands required!
Our commitment to providing services that are top of the line extends to the supplies we use too. You'll only find Sherwin-Williams paints and primers in our vehicles, as well as professional rollers, brushers, and other tools that help make painting projects successful from every angle. If you'd like to start planning your ideal home makeover, contact us today.
House Painting Frequently Asked Questions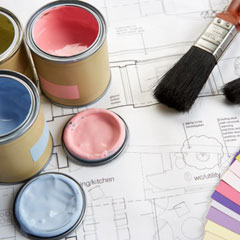 At Platinum Painting, we are homeowners too, so we understand the importance of choosing the right home service company. You want to make sure their team members are qualified, will respect your possessions, and will deliver the improvement results you're looking for. As you consider residential painting companies, know that your satisfaction is our highest priority, so we do everything we can to make that happen. Below are the answers to some questions that we've been asked by our customers in the past. We hope they help you determine whether we're a good fit for you and your painting project!
How many houses have you painted?
Over the years, we've painted many houses throughout North Texas. In fact, with 10,000 homes under our belt, we have seen and done it all. Through all these projects, we've maintained our commitment to satisfy each customer for each project whether large or small. Several of our team members have been with us since our company started in 2008, meaning that you benefit from our over ten years of experience in the painting industry. You can rest assured knowing that we have the expertise to handle any residential painting job with efficiency and excellent service, leaving you with beautiful results you love.
What prep work do I need to do before you start?
We understand that you don't want work crews in your house for any longer than necessary. That's why we need you to do some things before we arrive. On the inside of your house in areas where we will work, remove pictures and paintings from the walls and items from tables and mantels. If we are painting closets, empty them in advance. Take down kid or pet gates so that we can move around freely, but make sure your pet is secured away from our work areas in both the interior and exterior of your home. For the exterior, please shut off your sprinklers so that your paint can dry beautifully without interference and our crew members don't get surprised with a splash of water!
Is there an advantage to painting exterior and interior at the same time?
Yes, there is! As part of our commitment to satisfying each client, we do all we can to save time and money. Combining interior and exterior painting projects is one opportunity to do just that. Paint requires time to dry, and we ensure that colors you've chosen look amazing by doing multiple coats. As a result, we occasionally have to wait to continue working. If you bundle interior with exterior painting, we can use that time more efficiently by starting on another painting project elsewhere. For example, while the first coat dries inside, we can start tackling the outside painting. Or, in cases of inclement weather, we can still make progress by painting the indoor surfaces.
What type of paint do you use?
Platinum Painting is locally owned and operated, and we are completely devoted to meeting our clients' needs with flexibility. That means that if you prefer a certain brand of paint or a particular store, we will gladly adapt to those preferences. If you don't have any specific favorites that you'd like us to use, we get our paint through Sherwin Williams for their consistent quality and affordable pricing. For the most part, we tend to choose their Cashmere Interior Acrylic Latex and SuperPaint Exterior Acrylic Latex paints for the best results.