Exterior Painting – Arlington, TX
Give Your House A Dazzling Makeover
Painting a home's exterior can be a big, exhausting task. Not only do you have to grapple with dizzying ladders and countless cans of paint, but this type of project can also consume multiple weekends where you'd rather be relaxing with a cool drink after a long work week. At Platinum Painting of Arlington, let our experienced and friendly team take on the heavy lifting instead. We can't wait to make this transformative process very simple and stress-free for you and your loved ones.
As an initial step, we'll first stop by to take a close look at all of the exterior surfaces of your house during a consultation. This will help us determine its needs and your desired vision as well. Then, a comprehensive, completely personalized proposal will be drafted that includes all of the necessary information about cost. This estimate is free and has NO strings attached, even if you end up choosing a different painting company. We stand behind our top-tier quality and reasonable prices!
Our team can't wait to leave you with a home that turns heads as people drive by on the street. Contact us today to get started on exterior painting or ask any questions.
Why Choose Us:
Based in Arlington
Insured
Satisfaction Guarantee
Serving All of North Texas
What Do We Paint?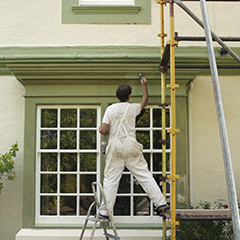 Every home has its particular quirks – thankfully, the Platinum Painting has seen it all before. We know the perfect painting strategies for virtually any type of home building material and fixture. Our available exterior services cover the following:
Composite
Wood
Brick
Fascia/Eavestrough
Vinyl/Aluminum
Stucco
Fence Staining
Patios
Railings
Decks
Various Carpentry
And much more!
We're Committed To Covering The Smallest Details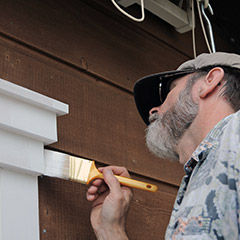 Platinum Painting of Arlington is highly familiar with all of the factors that need to be considered before embarking on an exterior painting project. For instance, have you considered climate? Whether we're talking about heavy rains, bracing wind, or even too much sunlight, it's important to keep in mind that paint can become worn down over time because of these elements. Additionally, areas of the house (such as skirting) that regularly experience a great deal of moisture will need an extra-special approach as well. If you have any distinctive shrubbery in the yard (such as bright flowers or colorful trees), it's also important to make sure that their shades aren't at a stark contrast to your new home's color(s). Don't worry – our team will consider all of these elements and so many more during the planning stages.
The Steps of Exterior Painting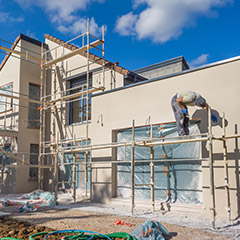 Initial Set Up & Preparation –The first step is to power wash all of the surfaces that will be painted in order to remove unpleasant substances like sand, mildew, dirt, and more. Additionally. Loose chips of paint will be eliminated through hand scraping. Please plan to shut off your sprinklers, relocate any outside plants and pieces of art, and secure pets. You can learn more about the preparation phase by visiting our Getting Started page.
Priming – Our team will always use a high-quality primer to get your house properly prepared for its makeover and ensure a long-lasting result.
Painting – We'll get to work on painting with the client's chosen shade and gloss level. This new coat will also better protect you from the elements!
Final Clean-Up – If the project spans multiple days, rest assured that our team will take the extra time to clean up on a daily basis, throwing away paint chips, packing up all of the materials we use, and getting rid of unsightly trash.
Dedicated Inspection – Once we're finished with your project, it will be time to take a full tour of the property. We can't wait to see your reaction and hopefully leave you smiling!
Comprehensive Color Consultations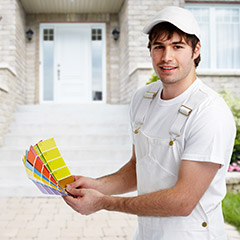 It's certainly a big decision when deciding on a brand-new color for the outer appearance of your beloved home. If you're not quite sure what direction is best for the building and its architectural qualities, be sure to ask our team at Platinum Painting! We're happy to provide dedicated consulting and help you reach a detailed plan of action that leaves everyone feeling genuinely excited about what's to come. You can also play around with the Paint Color Visualizer from Sherwin-Williams, which is a helpful online tool that will let homeowners play around with all sorts of color combinations.
Frequently Asked Questions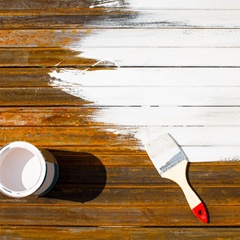 The exterior is the first thing people see when looking at your home. You want to make a good first impression whether you're simply inviting guests over or you're trying to sell your house soon. Choosing the right service company to paint your exteriors can make all the difference and boost your home's value. For over a decade, we at Platinum Painting have specialized in residential painting and have been serving homeowners all over North Texas. Over and over again, we've shown that we can bring each customer's vision to life, resulting in beautiful homes and happy customers.
Is it ever too hot or cold to paint? What is the best season to paint outside?
Let's face it! Texas has some crazy weather! At Platinum Painting, we do our best to complete exterior painting projects according to plan. For example, when the temperature exceeds 100 degrees in the summer, we schedule our work earlier in the day to stay ahead of the heat. However, if the temperature dips below 35 degrees in the winter or if it's raining, which is common during the spring and fall months, we need to reschedule for another time so that we can give you results that meet our—and your—high standards of quality.
Should I replace my gutters when I paint?
Yes! If your gutters aren't functioning properly or they're really old, your house can suffer from expensive water damage or foundation problems as a result. Plus, if you replace your gutters around the time you're painting the exterior, the beautiful results can last much longer and be better protected from future damage. Luckily, our founders, Karl and Marjorie Pickens, also own Platinum Gutters and can easily provide you with this service. Or we can collaborate with the gutter company of your choice and schedule the work accordingly. That way, you can spare yourself from expensive repairs down the road and enjoy your gorgeous home for many years to come.
Can you paint metal fences and gates?
We sure can! We have experience painting all kids of exterior surfaces, including metal fences and gates, and have the skills and tools to approach any situation in the most efficient way possible. Our "Idea Guys" are experts and can create an accurate estimate for the work you're envisioning—just tell us what you want, and we'll get it done to your satisfaction! Having served over 10,000 homes in North Texas, our team of experienced professionals know how to deliver high-quality results with every project.
Can you replace the wood before you paint?
Absolutely! Yes, we are primarily a painting service company, but our skills reach beyond the paintbrush. As you likely know, we can get some pretty crazy weather here in North Texas, and the wood surfaces outside your home can show it. Over time, rain and hail can cause these surfaces to become damaged or rotten. On our team, we have master carpenters who can replace wood for HardiePlank lap siding, the fascia, and the soffit—just to name a few. As with our painting work, we guarantee your satisfaction with our carpentry, ensuring that your house stays beautiful and strong regardless of what Texas weather throws your way.