July 14, 2021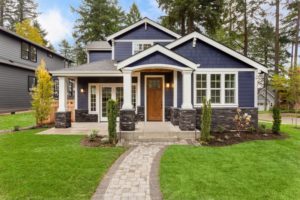 The last baby bird has left the nest! Now that the kiddos have moved out, you're ready to sell your home and downsize. You've tried to take proper care of your home over the years, but you know it could use some sprucing up before you put it on the market. Of course, you don't have unlimited funds, so you have to decide which upgrades and improvements will garner the most return on your investment in terms of your home's value. Here are three good reasons why you should consider exterior painting to help you get the most from your home value.
Curb Appeal Matters.
When you meet someone new, you give them a first impression of you as a person, whether consciously or subconsciously. In the dating world these days, you may have only seconds before someone swipes left or right. Your house must make a powerful first impression to homebuyers as well, and curb appeal is how most homes attract a longer look. The condition of the outside of the house can convince buyers to take a look inside.
With a fluctuating market, it can be difficult to put an exact number on how rewarding improving the curb appeal of your home can be. However, a study from Michigan State University shows that having strong curb appeal can increase perceived home value between 5 to 11 percent. Homes with great curb appeal also tend to sell more quickly because they attracted more interested buyers and often have more showings.
Old Paint Sends the Wrong Message.
Few buyers want to purchase a product that comes broken. Peeling, chipping, or otherwise failing paint on the outside of the house can convey that the house has not been well maintained. Not only does it look unkempt, but it could also mean that the house has water damage or other issues with weathering the elements. Keeping the paint fresh shows that the house is still in excellent condition and will endure Mother Nature.
Fresh Exterior Paint Is Cost Effective.
Although landscaping certainly plays a major role in creating great curb appeal, the actual appearance of the house itself undoubtedly can make it appear more attractive, increasing its value for homebuyers. But for how much? Compared to more costly exterior upgrades like landscaping, painting is a simple, affordable way to make your home appear well kept and new without taking up your entire budget.
Before you put your house on the market, make sure its exterior makes a strong first impression that invites buyers to take a closer look. That way, you can hopefully get the price you want as quickly as possible, allowing you to move on to the next chapter of your life!
About Platinum Painting of Arlington
Platinum Painting has been North Texas's #1 residential painting company for more than 8 years. We have helped more than 10,000 homeowners improve their properties inside and out. Unlike our competitors, who give estimates over the phone, we provide written quotes obtained after our estimator has seen the project space in person. As a result, you can bet that your total cost will be close to that original estimate. If you'd like to schedule your free in-person quote, contact Platinum Painting!
Comments Off

on 3 Reasons for Exterior Painting Before Listing Your Home
No Comments
No comments yet.
RSS feed for comments on this post.
Sorry, the comment form is closed at this time.