October 6, 2022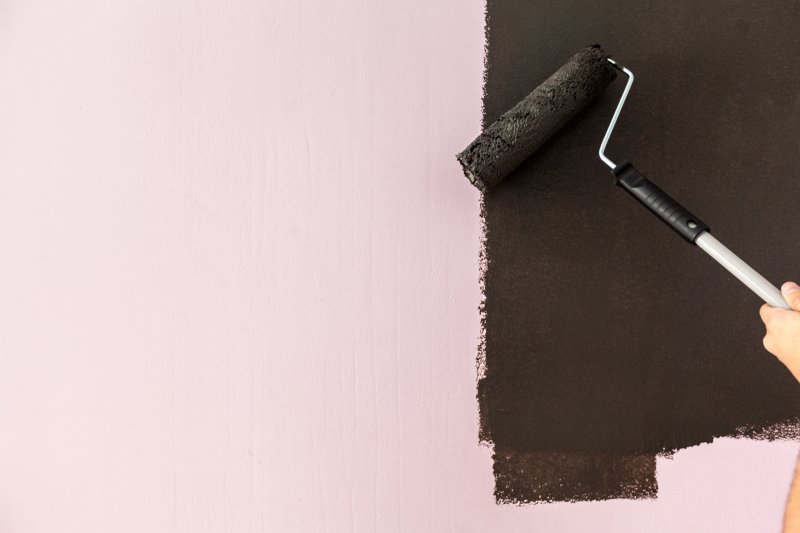 Black paint has become incredibly popular in recent years. It can easily make your home look sleek, modern, and stylish. This hot interior design trend is a quick way to transform your interior and create an elegant aesthetic. Although black is a bold color, it's also considered timeless. Many homeowners are adding black paint to their homes because it complements several types of furniture and décor. Of course, it can also swallow a room if used incorrectly. Before picking up a paintbrush, here are some tips to keep in mind.
Choose the Right Surfaces
First and foremost, you need to figure out which surfaces you want to paint black. Maybe you'll choose your walls or other elements such as trim or doors. This step is incredibly important because choosing the proper surfaces can prevent your room from looking overly dark or uninviting.
If you need ideas, consider the following:
Create an accent wall. Not sure if you want to paint your entire room black? Create an accent! Even painting just one wall, door, or ceiling can add incredible sophistication to your home. When paired with lighter colors (i.e., cream or white), it can make your room seem more spacious.
Paint the tallest wall in the room. If your chosen room has a slanted ceiling and uneven walls, you can paint the tallest wall in the room. Not only will it create a focal point, but it can make your room feel larger and brighter.
Use black paint on your entire hallway or powder room. It's a surprisingly excellent color choice for these areas in your home! Just make sure you paint your baseboards and trim a white or cream color for some contrast.
Don't Forget to Consider Sheen
After choosing a surface, you need to consider the black paint and sheen. You want to make sure it complements the room you're painting. Cool black paints contain blue or violet undertones, while warm black paints contain brown or true black undertones. If you're unsure which one to choose, consider the decorative elements in your room.
Keep in mind that you'll also need to choose your sheen carefully. Matte black paint may look great, but it's not as durable as eggshell or satin blacks. As such, they likely won't work in a kitchen, child's room, or another high-traffic area.
Consider Your Decorative Elements
Lastly, you need to make sure you choose décor, furniture, and accents that blend and contrast with black walls. They'll make your home look more cohesive and inviting! You can use black paint at least once more in the room to make it appear more spacious and blend everything together. Don't forget your contrasting colors as well. Brighter throw pillows, a bold sofa, a cream headboard, or white picture frames can all help offset the dark hues.
Do you want to paint your walls black? Consider hiring a team of professional painters to get the job done. They'll use high-quality products and time-tested techniques to deliver the stunning results you deserve!
About Platinum Painting of Arlington
At Platinum Painting of Arlington, we want your home to look fresh, modern, and beautiful. Not only that, but we also want to make sure it suits your ideal aesthetic preferences. If you're thinking about adding black paint to your home, our team is more than happy to do the hard work for you. We'll provide expert advice and quality service to make your interior design visions come to life. For an estimate, visit our website or call (817) 983-7280.
Comments Off

on Painting Your Walls Black? Check Out These Tips!
No Comments
No comments yet.
RSS feed for comments on this post.
Sorry, the comment form is closed at this time.