April 11, 2022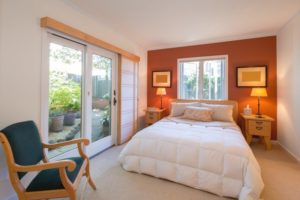 As you stare at your room, you know it needs something to take it to the next level. You know you don't want the whole room to be a crazy color, but you've got one in mind. The solution? You could accent one of the walls! An accent wall is the perfect opportunity to add some flair to a room. It can work in rooms of all kinds and sizes, but there are rules for how to make sure it's a successful style feature. Keep reading to learn what these dos and don'ts are.
Dos for Accent Walls
Even though it's just a single wall, there are endless possibilities for that accent area. With so many options, it can easily become overwhelming. Here are some tips to keep in mind while you're picking the color(s) you want for an accent wall.
Spice Up a Neutral Room
Especially if the other walls have a neutral or "boring" color, you should think about choosing a bold paint color as the accent to express some personality. This wall is meant to attract and focus attention on itself, so why shouldn't it make a bold statement?
Consider More Than One Color
You don't have to be restricted to just one color. Depending on the color scheme and the effect you want for this wall, you could incorporate multiple paint colors. Don't be afraid to think outside the box!
Consider Wallpaper or Patterns
Nothing in the rulebook says the accent wall must be achieved with paint. If you find a wallpaper you love or want to include a certain pattern in the space, feel free to use this wall to bring in this style element.
Don'ts for Accents Walls
Although there is a ton of potential for an accent wall, there are also things you should avoid. The main don't is having more than one accent wall in a room. If you do, the effect is completely lost. Choose just one to highlight and make the others the same color. Below are some other don'ts to consider.
Forget about Texture
Your accent wall doesn't necessarily have to be flat with paint. Have you considered covering a wall with tile, brick, stone, or wood? When well-executed, this idea can give the room architectural interest as well as various colorful style.
Limit Yourself to the Walls
Many people forget about the fifth wall in the room—the ceiling! If you can't decide which wall to choose as the accent, look up. You may find that the ceiling is the perfect solution.
About Platinum Painting of Arlington
For more than a decade, Platinum Painting of Arlington has served homeowners and helped them create beautiful living spaces. We can not only paint interior walls, but also remove popcorn ceilings, paint exterior walls, paint cabinets, and remove wallpaper. If you would like to receive an in-person estimate, you may reach out to our Customer Care team online or call us to schedule with one of our estimators.
Comments Off

on Essential Dos and Don'ts for Accent Walls
No Comments
No comments yet.
RSS feed for comments on this post.
Sorry, the comment form is closed at this time.