March 8, 2022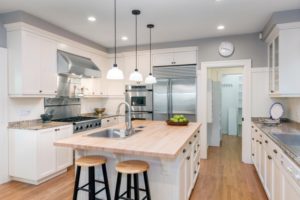 Every day, perhaps multiple times a day, you go into your kitchen to find something to eat. You open and close various cabinets and drawers searching for the right food and dishes to eat it with. You prepare meals, make lunches for the kids, and bake yummy treats. The kitchen is one of the main hubs of your home!
With all the time you spend in the kitchen, you should love being there. Drab cabinets can date the room and make it feel dingy or just plain old. Keep reading to learn why you should seriously consider painting your kitchen cabinets and which colors to choose from.
Why Paint Your Kitchen Cabinets
When it comes to your kitchen, the color of the cabinets sets the tone for the entire room. However, if you've ever done any remodeling in your house, you likely already know just how quickly costs can rack up. Replacing kitchen cabinets is not feasible in most homeowners' budgets, and refinishing them isn't much better. Painting, on the other hand, costs a lot less and allows you to update your kitchen to match the look and feel you want in this crucial room.
Certain wood tones can help create a beautiful space in the kitchen, but others can quickly become outdated. Plus, there is such a thing as too much wood. By painting the cabinets, you can use color to the fullest potential.
Classic Colors for Kitchen Cabinets
With changing trends all the time, it can be difficult to narrow down your color options for the kitchen cabinets. You probably don't want to jump on an extreme trend that will be considered ugly a year later. The good news is that some colors are always in style, including:
White: clean, bright, and complementary to many colors
Gray or greige: classic and neutral
Darker shades of blue: cool and relaxing
Green: natural and calming
Black: bold and chic
Although not all of these various colors are neutrals, they have a few traits in common—they pair well with most other colors and metal finishes, they appeal to many different tastes and styles, and yet they allow your personality to shine through.
Whether you're preparing dinner, entertaining guests, making cookies, or just grabbing a snack, your kitchen cabinets can make a fresh statement in one of the most important rooms in your home. Painting the kitchen cabinets can help you get a fresh start and help you create a space where you can feel comfortable and enjoy your time with loved ones and guests.
About Platinum Painting of Arlington
As residential painting experts, our team at Platinum Painting of Arlington can do painting work in or outside your home. When it comes to painting cabinets, we work as efficiently as possible to get your kitchen back in order, and we typically encourage homeowners to paint their cabinets instead of replace or resurface them. If you would like to refresh your kitchen by painting cabinets, you may contact our Customer Care team online here to schedule a free estimate.
Comments Off

on Painting Cabinets: Classic Colors for the Kitchen
No Comments
No comments yet.
RSS feed for comments on this post.
Sorry, the comment form is closed at this time.