June 16, 2021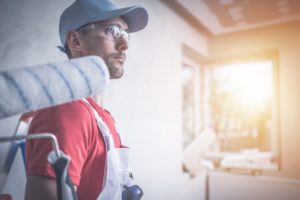 You look at design magazines and daydream about making your house into a home. An easy way to accomplish this is by customizing your interior paint. But in the past, DIY projects haven't exactly gone well. You don't want the paint to look sloppy! How do the pro house painters do it? Read on to learn some helpful professional painting tips.
Consider All Design Elements
If you're redecorating a room, one of the first elements you need to plan is the paint color on the walls. This background sets up the tone for the room and will impact the accents and décor. On the other hand, if you have décor you'd like to use in the room, then your choice of paint color will be affected. The style is all interconnected, and you need to think about how all the parts of the design will fit together.
Let Your Creativity Shine
When you enter your house or your own room, do you feel comfortable? Do you feel that it is truly yours? Your house should reflect your personality and be a haven from the outside world. Professional painters know that a bold paint color can transform a space. While styling your rooms, don't be afraid to express some of your creativity in the wall color and décor.
Choose the Highest Quality Paint
You've probably heard the phrase—you get what you pay for. It's certainly true when it comes to paint quality. Cheap paints may seem appealing because of their lower cost, but the lower quality will show up in the final results. Spend a little extra to get paint you know will look amazing and last a long time.
Similarly, don't skimp on the materials you use to apply the paint. Make sure you have the tools you need to ensure that the walls look perfectly even and expertly done.
Allocate Enough Time to the Project
Painting a room almost always takes longer than you think it will, especially if you're the only person doing it. Even with a crew, make sure you allow enough time for the prep work and for the first coat to dry before applying the second coat. If you want the job done right, then give yourself enough time.
Get Help
Home improvement projects can be exciting, but they can also be stressful. However, when you hire a professional team to take care of painting your home, you can sit back and simply enjoy the outcome. Experts already know which paint brands have proven high quality and the materials to do the work with precision. Plus, if you need help deciding on colors, they can offer recommendations based on industry experience.
If you really want your painting results to look professionally done, then why not have them professionally done? Going with industry experts takes burdens off your shoulders and ensure that your walls will look exactly the way you want them to.
About Platinum Painting of Arlington
Since 2008, Platinum Painting has painted more than 10,000 North Texas homes. With a customer-first approach, we go the extra mile to make sure homeowners are delighted with our work and our customer service. In addition to a free in-home quote, we also offer a complimentary color consultation with one of our knowledgeable team members to make sure you love your choice. To learn more about our services, you can contact the Platinum Painting team through our website.
Comments Off

on 5 Professional Painting Tips for Your Next Project
No Comments
No comments yet.
RSS feed for comments on this post.
Sorry, the comment form is closed at this time.