April 15, 2021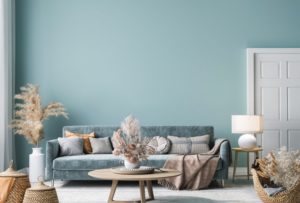 Whether you're still working from your bedroom office or just not going out as much as you used to due to the pandemic, the same old neutral tones and uncoordinated décor can give you cabin fever. A fresh coat of paint utilizing the latest and greatest trends of 2021 can do just the trick! Read on to learn about five of the latest tasteful paint color trends that you won't want to miss out on.
Every Shade of Blue
There are countless shades of blue that make you feel all kinds of ways, from sky blue that helps you feel secure and safe to serene deep blues that remind you of the darkest depths of the ocean. In 2021, homeowners are choosing to showcase the wide array of blues in a monochromatic masterpiece that features any shade of blue that you like. Depending on your room and how you want it to feel, you could use pastel and sky blues or deep, dark blues. It's all up to you!
Natural Earth Tones
Deep browns that resemble tree trunks, reds that resemble rich clay, vibrant, dark greens, and calming blues are all earth tones that go well together. If you're looking to create a relaxing environment that resembles nature and is the perfect backdrop for your plants, this palette is it. It will be the perfect frame for mid-century modern and wooden furniture to make it really stand out.
Deep Purples
Most homeowners would never guess to explore purple as a potential color for their living room or bedroom, but the rich color of eggplant is moody, dramatic, and will make any space truly standout. It goes with virtually any neutral color and works well as an accent, especially in spaces that are made to help you relax and wind-down, like bathrooms.
Bold & Yellow
If you're looking for a dramatic change, you'll love the bold yellow trend. It radiates positivity and is a great way to really show off your decorating abilities. It goes well with wood floors and deep, complimentary colors and is an excellent way to brighten up your entire home.
Picturesque Pastels
Many people think that pastels are only great in nurseries or bathrooms, but they're much more versatile than that. They can transform any room into a soothing, calm space. Pastel blues, greens, and creams are clean and cozy, making them great for nearly any space in the home.
Painting can become overwhelming, especially if you don't have any colors in mind when you start the project. By exploring these five popular painting trends of 2021, you'll have a perfect starting line to make your home relevant and refreshed.
About Platinum Painting of Arlington
At Platinum Painting of Arlington, we're truly experts in our field, because we only paint residential buildings. That means that we work with homeowners all day, every day, helping them find the perfect color and shade to achieve the desired effect. We also offer a satisfaction guarantee and come fully bonded and insured, so you can rest-assured that you'll achieve the results you want without any hassle. For questions or to schedule a free in-home estimate, visit our website or call 817-983-7280.
Comments Off

on 5 Paint Color Trends in 2021 You Won't Want to Miss!
No Comments
No comments yet.
RSS feed for comments on this post.
Sorry, the comment form is closed at this time.