March 25, 2021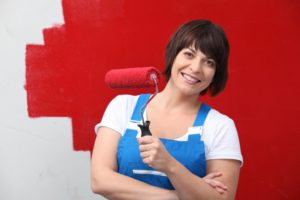 You want to redesign several rooms in your house, but you're not sure what colors to pick for each space. After scrolling for hours on Pinterest, you feel more confused than ever. Although you've found plenty of examples that look good, you don't know which ones "feel like home" to you. Well, did you know that your color selection for your rooms can have an effect on your mood? In this post, you'll learn about the psychology of color and how the paint color can help you create the kind of atmosphere you want in your home.
Warm Colors
Reds, oranges, and yellows are all classified as warmer colors. In some cultures, these colors (red specifically) are considered lucky and represents good fortune. In holistic treatments, warm colors are used for stimulation and energy. Certain shades of these warm colors often makes people feel comfortable and interested; however, other shades may incite feelings of anxiety, anger, or aggressiveness.
Cool Colors
Purples, blues, and greens are classic cool colors and have been known to create calm, relaxing spaces. Holistic therapy often uses blue and indigo in treatment intended for relieving pain. In some people, however, these shades on the wall can promote sad or indifferent feelings.
Neutrals
The beauty of neutrals is that they never completely go out of style and are reliable year after year. But even neutrals can have various impacts on your mood. For example, certain tones of gray, particularly dark tones approaching black, may be depressing for some. If you do pick a neutral for the wall color, you then have even more freedom to have bold accent pieces and colors.
How to Use Color to Your Advantage
Before you can choose the color you want on the walls, you need to consider several things, including the following questions:
What is the room used for?
What feeling do you want in the room?
A paint and color scheme that works in one room may not be appropriate in a different one. For example, bedrooms are meant to be slept in, which means they should have a soothing, relaxing atmosphere. A warm red is exciting and welcoming for entertaining guests in a dining room, but you may not want that same vibe in your kid's bedroom. Once you determine the mood you want, you can narrow your countless options down, making the decision easier.
The color of the walls alone probably won't determine your mood, but you can select colors that create the environment you want for the space. Ultimately, the colors you choose should make you happy and comfortable. After all, you'll be living with them for years to come!
About Platinum Painting
In 2008, Karl and Marjorie Pickens opened Platinum Painting in Keller, TX. It has expanded to serve communities throughout North Texas, like Arlington. When you work with us, in addition to getting a free in-house estimate, you can also get a free color consultation with a trained professional, who is familiar with current design trends. If you have questions, or if you are ready for your estimate, give us a call!
Comments Off

on In the Mood: How to Harness Color Selection for Your Home
No Comments
No comments yet.
RSS feed for comments on this post.
Sorry, the comment form is closed at this time.