November 28, 2020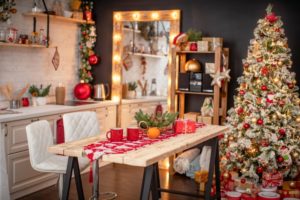 For most families, the kitchen is a warm, welcoming gathering place during the holidays where everyone can chat while bonding over cooking delicious honey hams and green bean casserole. With holiday music faintly playing in the background, there's no better memory that can be made than enjoying a beautiful small family get-together during these unpredictable and stressful times. If your kitchen isn't warm, welcoming, or able to accommodate this beautiful memory, it's time for a few renovations. Read on for four easy ways for updating your kitchen on a budget.
Painting or Staining Your Kitchen Cabinets
There's nothing that can transform your kitchen from drab and outdated to modern, warm, and beautiful than painting or staining your kitchen cabinets. The best part is that it's significantly less expensive than getting new ones! Cabinet painting has become more popular over the last few years because it's such a transformative and versatile project. You can paint your upper and lower cabinets contrasting colors if you'd like to add a touch of modern personality to your kitchen, or you can go with a beautiful sage color to introduce a tranquil and natural feel to the space!
Swap Out the Lighting
When's the last time you cleaned your lighting covers or updated your fixtures? These small details may not seem like they would make a big difference, but they truly do! In addition to installing new covers for your kitchen lighting, or even putting in clean and modern track lighting, you can change the lightbulbs to illuminate warm yellow light instead of bright, sterile white light.
Update Your Kitchen Cabinet Hardware
One detail of kitchens that many homeowners look over is the hardware on their kitchen cabinets. Outdated hinges and handles can make your home look older than it actually is. Try visiting your local home goods store, like Lowes, and finding some new hardware that adds character, flare, or crispness to your kitchen. You'll be surprised at how much it can modernize the space!
Work in Warm, Rustic Elements
Who doesn't love a warm, rustic, farmhouse-style kitchen? To pull off this look before the holidays, be on the lookout for rustic accessories and elements that you can incorporate into your kitchen, like beautiful natural wood shelving or a pot rack that you can suspend from the ceiling. Once you incorporate everything into the space, you'll be surprised at just how big of a difference these small details can make.
These are four of many different ways that you can take your kitchen from outdated and boring to modern, warm, and beautiful before your family arrives for the holidays. Not only are they great options if you're on a budget, but they'll allow you to transform your kitchen without needing to gut and renovate it!
About Platinum Painting of Arlington
At Platinum Painting of Arlington, our team of professional residential painters is dedicated to making homeowners' visions come true. Whether you're looking to paint your kitchen cabinets or the outside or inside of your home, we can help modernize your house and inject a little bit of your personality into it to make it feel more like your own. To learn more about cabinet painting or schedule a free estimate, visit our website or call 817-983-7280.
Comments Off

on 4 Ways to Transform Your Kitchen Into the Heart of Your Home
No Comments
No comments yet.
RSS feed for comments on this post.
Sorry, the comment form is closed at this time.