September 30, 2020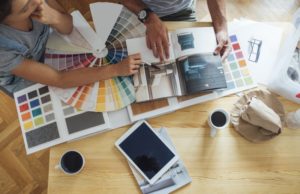 Are you looking into tackling redecorating your living room? The first and most transformative part of this project is painting it. Unfortunately, this is also the step where many people make unfixable mistakes that can ruin the aesthetic and look that they're trying to create. That's why it's important to find a professional to consult with. Read on to learn five helpful tips to paint your living room and help you achieve the results you're imagining in your head.
Thoroughly Plan Your Approach
Whenever you take on a project like decorating the inside of your home, it's important to make sure that no detail is left unresolved. If you run into an issue mid-project, it can cause you to scramble at the last minute trying to come up with quick-fix solutions. That's why it's a good idea to sit down and spend a few days making an inspiration board with the colors you'd like to decorate your living room with, a list of materials you need, and doing a little decorative shopping online to bring the room together once everything's done.
Choose a Trusted Professional Painter
It's important that you don't settle on just any painter to transform your home and provide you with beautiful results. Make sure to check that they're bonded and insured and that other locals trust them! You can do this by checking out their website and reading reviews on Google and Yelp.
Choose a Wall Color that Goes with Permanent Fixtures
Do you have any permanent fixtures or furniture in your living room that you can't paint or won't be replacing? It's important to consider the style and colors of these before you choose the paint color. You don't want to get a shade that will clash with these decorations or make the room feel jarring, because that would ruin all of your hard work or risk you needing to blow your budget!
Make Sure the Space is Well Ventilated
As the painting company is at your home doing what they do best, it's a good idea to double-check and make sure that the room is being properly ventilated. You can do this by keeping a fan on and opening the windows on a sunny and dry day. This will help keep fumes from smelling up your home and help the paint dry faster.
DIY Projects Often Get Underwhelming Results
Painting your own living room may sound like a piece-of-cake project that you can easily do yourself, but many homeowners aren't aware that there are several preparatory steps that you'll need and knowledge necessary to achieve the results you're hoping for. Instead of being drastically underwhelmed by a paint job that you do yourself, be sure to hire professionals that can make your dream living room a reality.
About the Author
At Platinum Painting of Arlington, we provide quality and satisfaction-guaranteed interior painting for homeowners in North Texas. We're proud of the results that we achieve, and we want homeowners to feel comfortable working with us, which is why we come completely bonded and insured. We also offer 0% financing to help you get the job done without breaking the bank. For questions or to schedule a free estimate, visit our website or call 817-983-7280.
Comments Off

on 5 Helpful Tips for Painting Your Living Room
No Comments
No comments yet.
RSS feed for comments on this post.
Sorry, the comment form is closed at this time.