August 25, 2020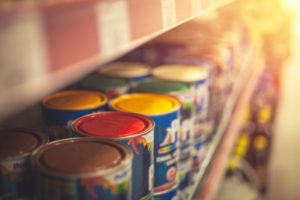 To someone who may not have a lot of experience redoing their home, you may not know much about paint. Although the color is important, there are several different types of paint that vary in sheen and the quality of ingredients used. One of the most important distinctions is the difference between exterior and interior paint. Read on to learn some of the key features of each of these two types of paint and what one would be best for your project.
Paint 101: The Basic Ingredients
The best place to start explaining the differences between paints is to familiarize yourself with what's the same. All paints are made of basic ingredients, including resin, pigments, solvents, and additives. Latex paints have a water solvent, while oil-based paints have mineral spirits. These solvents give the paints their wet appearance and feel.
Once they're painted on a wall, the solvent will gradually evaporate, leaving you with just the resin, pigments, and additives. The pigment, which is the color of your paint, is bound to the surface with resins, which can be made of acrylic, epoxy, or silicone. Finally, the different additives that are given to a paint give it special properties, like resisting mildew or making it easier to clean.
The Difference Between Interior & Exterior Paints
While interior and exterior paints share several similarities, the primary difference between the two is that oil-based paints are normally not used indoors due to their odor and the fact that they're difficult to clean up. However, both water-based and oil-based paints can be used outdoors.
The primary difference between these two types of paint is their choice of resin, which is the ingredient that binds the paint to the surface that you paint it on. It's important that exterior paint be able to survive the temperature changes, being exposed to moisture, and weathering. In order to last, it has to be durable and resist peeling, chipping, and fading from UV rays, which is why the resin is softer. For interior paints, this isn't a problem, because they're used in temperature-controlled, active environments. This is why their resins are more rigid, minimizing scuffing and smearing from daily use of the home.
Knowing Which Type of Paint is Right For You
While you wouldn't want to use an exterior paint indoors due to the gasses it releases, it's important to note that each of these paints serves specific purposes. They're made to withstand different elements and last for years. The best place to start while looking for the right paint for your project is to consult with a professional. This way, you'll end up with a high-quality paint that will truly transform your home.
Now that you know the difference between exterior and interior paints, you can start perusing your local paint store. Just don't forget to speak with your professional if you have any questions!
About Platinum Painting of Arlington
At Platinum Painting of Arlington, our team offers a variety of services to help revitalize outdated homes and truly create a space of your own, including interior and exterior paint, wallpaper removal, and popcorn ceiling removal. At every step of the way, our professionals are there to answer questions and provide you with a knowledgeable opinion whenever you need it. For questions or to schedule a free in-home estimate, visit our website or call 817-983-7280.
Comments Off

on What's the Difference Between Exterior and Interior Paint?
No Comments
No comments yet.
RSS feed for comments on this post.
Sorry, the comment form is closed at this time.