July 30, 2020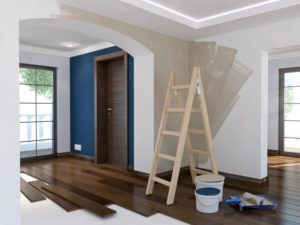 Painting your home may sound like an exciting and easy project on the surface; however, many DIY-ers underestimate how much is involved. This often causes them to make drastic mistakes, some that are even irreversible! If you're debating about taking on this project yourself, here are some tips for painting your walls to help avoid any complications.
Failing To Properly Prepare The Walls
Even though you feel like you're all set and ready to start painting, there's likely something you may have forgotten or didn't know you had to do beforehand. Holes, flaws, and dust or dirt attached to your walls will be highlighted by the fresh coat of paint, ruining the transformative results. Although you may not see these things before you start, they're there. That's why it's vital to always thoroughly wash all of the interior walls you'll be painting before you start. It's also important to thoroughly examine your walls for any dents and scrapes so you can repair them before you begin painting.
Rushing Through The Job
Another factor of taking on painting the interior of your home that many homeowners don't take into account is how much time it will take. Once you start and realize how time-consuming painting is, you may be tempted to rush through the several coats that need to be applied. This can cause a couple of issues. First, moving quickly and not carefully can cause paint to splatter and drip in places that you don't want it to, like your baseboard, floor, or even surrounding furniture. The lines are also likely to not be straight and uniform if you rush, making the job look like you did it yourself. Without making a detailed and methodical plan that focuses on being thorough rather than getting done faster, you're bound to run into several complications.
Attempting To Cut Cost On Materials
It doesn't matter whether you decide to paint your home yourself or hire local painting professionals, the cost of materials is only a small part in your home-transformation investment. That's why it doesn't make sense to try to save pennies on paint, because this will often impact the quality of paint you get.
For long-lasting, great results, it's important to invest in a high-quality paint. If you don't, you may notice that the coverage of the paint is poor, letting the old color show through. Lower quality paints also don't last as long, because the adhesives used in them aren't as effective. This can cause them to be more prone to getting scuffed-up and stained, as well as making it harder to clean them. Your best bet is to always purchase higher-end paint that's best-suited for the rooms you're updating.
At the end of the day, there's a single solution to all of these problems, and it's to hire a team of professional painters to take care of the job for you. That way, you can rest-assured knowing that the results will be up to your standards and last longer.
About Platinum Painters of Arlington
At Platinum Painters of Arlington, our team of professionals comes bonded, insured, and with a satisfaction guarantee, so homeowners know what type of results they can expect from the get-go. We're more than happy to assist homeowners with choosing the best types of paint as well as offering a second opinion if they run into any doubts while picking colors out. For questions or to schedule a free estimate, visit our website or call 817-983-7280.
Comments Off

on 3 Common Interior Painting Mishaps To Avoid
No Comments
No comments yet.
RSS feed for comments on this post.
Sorry, the comment form is closed at this time.