June 3, 2020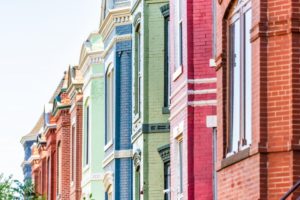 Today, many Texan homeowners are looking for new ways they can modernize the classic red brick home. One solution that has become incredibly popular has been painting exterior brick to refresh the entire home without having to use your entire savings. If you want a cleaner take on a brick home, you can paint it white. Or, if you want it to stand out, you can choose a wild, fun color, like a deep forest green. However, before you commit to this project, it's important to consider the future maintenance it will require and all of the pros and cons. Read on to learn some considerations you should keep in mind before painting exterior brick.
The Benefits of Painting Exterior Brick
Painting the exterior brick of your home is a project that can truly transform the curbside appeal while staying on a budget. For people who have Homeowner's Associations that have a set list of acceptable colors, most of these are typical neutral earth tones, like beige, which would look great on a home. A great way to visualize more color schemes is to look at home improvement blog boards that try out other color options too!
When you continue to maintain your painted brick home, the added coat can provide it with additional protection from the elements. It prevents fading and deterioration that are common occurrences in the high Texas heat. If your brick is left unpainted, it can grab ahold of dirt and debris in the air, making it hard to clean off. Painted brick is a much smoother and less friction-filled surface that is much easier to clean.
Factors To Consider Before Painting Exterior Brick
With every project, you should always consider the longevity of the results. For exterior painting in particular, it's important to ask yourself about the upkeep details. After you paint your brick home, it's permanent, which means you'll need to regularly have it repainted in order for it to continue to look great and boost your curbside appeal. It's recommended to continue to get the outside repainted every five to 10 years (depending on the local weather). This will help keep your home looking fresh and prevent cosmetic problems like chipping paint from moisture, especially in the area located nearest to the ground.
The Importance of Hiring a Professional
Painting exterior brick of a home is a job for a professional, because if you attempt it yourself and mess up, it's likely going to be permanent. Experts know exactly what type of paint is best for this unique surface, what tools to use, and should always have insurance. Plus, prepping for such a large painting job is difficult and time-consuming. It involves cleaning, drying, and taping off areas to protect them from paint. With a team of knowledgeable professionals helping you with this project, you can rest-assured that you'll be able to enjoy the results you were envisioning.
About Platinum Painting of Arlington
Our team of experts are equipped with the proper knowledge and tools to provide you with beautiful exterior painting results. We're bonded and insured, and even guarantee that you'll be satisfied with the results. Because we solely focus on improving residential spaces by offering a variety of services, we can confidently say that we're truly experts in our field. To schedule a free in-home estimate, you can visit our website or call 817-983-7280.
Comments Off

on Factors To Consider Before Painting Exterior Brick
No Comments
No comments yet.
RSS feed for comments on this post.
Sorry, the comment form is closed at this time.