February 3, 2020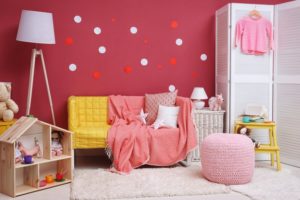 Painting your child's room to make it a more fun and engaging environment takes planning and loads of hard work. You want to give them a timeless space that they can enjoy for years to come, but you also don't know what their tastes are going to be like a few years down the road. Read on for five tips to paint your child's room and transform it into an exciting space that they want to spend all of their time in.
Choosing the Right Paint
When you first walk into your local paint supply store, you'll likely feel overwhelmed by all of the fun colors and styles available. There are several options that can help encourage your child's creativity while also resisting unwanted messes and permanent damage to all of the hard work you put into redecorating their room. Some of these choices include durable semigloss finishes, chalkboard, glow-in-the-dark, magnetic, and faux-confetti paints.
Consulting With a Professional
Too many people have taken on a DIY project of painting or redecorating their house, only to achieve results that aren't like anything they imagined. Not only can these situations be disappointing, but they often result in needing to invest more money and time in order to resolve the issues and achieve great results that they originally hoped for. Instead of taking this gamble, consult with a professional painter beforehand so you can get it right the first time around.
Consider Painting the Furniture For an Exciting Pop
If you're worried about your child growing out of the color of paint that they chose for their room, you can always consider leaving the walls a neutral color and adding an exciting pop by painting the furniture instead. This can also allow you to customize spaces like apartments and rental homes without having to worry about needing to paint the walls back to their original color once your lease is up.
Paint Fun Wall Patterns
Fun striped, geometric, and chevron wall patterns are a great way to add variety and excitement to your child's room. Not only are these fun to look at, but they also won't go out of style, even when they're teenagers!
Make The Ceiling A Fun Accent Wall
Many people don't consider painting the ceiling of a room because it's not right in front of them. However, using the ceiling as an accent wall by painting a pattern on it or adding a splash of color can add a lot to your child's room. Plus, you can carry on the theme throughout their bedroom by decorating with fun curtains, lamps, and even throw pillows.
Taking on a project as big as decorating your child's room can be overwhelming, especially if you're not familiar with picking out colors and types of paints. Many professional painting services offer free estimates and consultations that can help you achieve amazing results that your child will be able to enjoy for years to come.
About Platinum Painting of Arlington
At Platinum Painting of Arlington, we offer free in-home estimates and consultations from our interior painting experts. We also stand behind our high-quality work and are dedicated to providing our homeowners with amazing results, which is why we guarantee a great experience. In addition to providing interior and exterior painting, we also offer wallpaper removal, popcorn ceiling removal, and even cabinet painting. For questions or to schedule your free estimate, visit our website or call 817-983-7280.
Comments Off

on 5 Tips to Paint Your Child's Room
No Comments
No comments yet.
RSS feed for comments on this post.
Sorry, the comment form is closed at this time.